10 Portman Square
British Land
Situated in the heart of London's W1, 10 Portman Square is a stunning new office development from British Land. NextBigThing were asked to create a brand for 10 Portman Square that reflected the stature of the building. The brand needed to reflect the prestige of the address, as well as the glamour and vibrancy of the local area.
Learn More
10 Portman Square is 113,000 sq ft of space over seven column-free floors, it offers a modern office environment in a prestigious and exclusive location. This landmark address is surrounded by the best shopping, most fashionable bars and finest restaurants London has to offer. In a property market that was being tested, and for a building in such a competitive location, the brand needed to be engaging, informative and beautiful.
For the pre-completion brand the rich black and bronze foil take cues from the quality, stylish finishes used architecturally throughout 10 Portman Square. The fluorescent colour palette, used with confident restraint, is inspired by the innovative dichroic fins that adorn the outer windows of the building. The thought process for the logotype emphasises the key selling attribute of the building – the address surrounded by an abundance of London's best.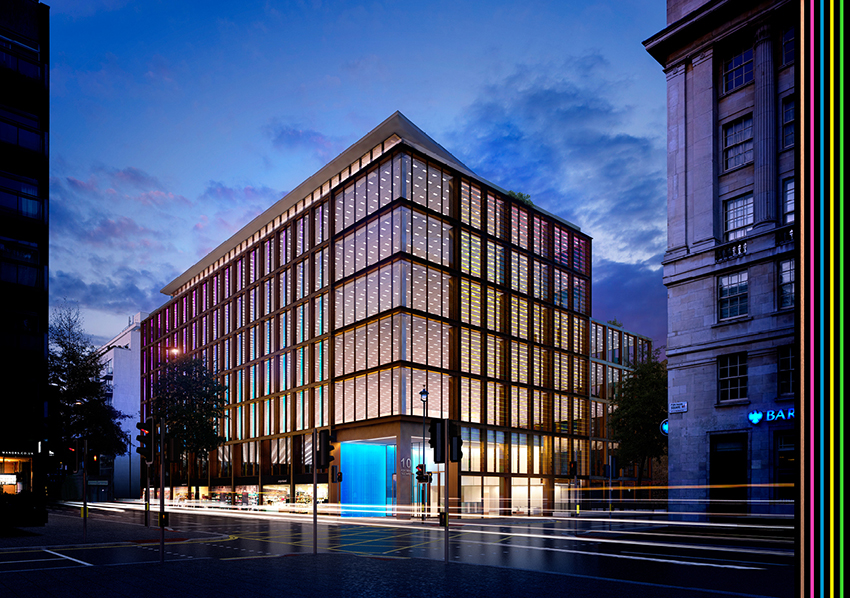 The brochure has been a key marketing tool in securing first class tenants, with the building now over 50% pre-let – an impressive figure in the current economic climate.
The post-completion brand continued the high standards of quality finishes. Sumptuous ivory leather, bronze foiling and electric blue are some of the materials and colours used within the building, which communicated in the brochure. The transition from black to white differentiates between pre and post-completion and reflects the light and spacious building now open for business.
The strength of the brand meant it expanded clearly across invitations, web and retail window vinyl, maintaining a stature befitting of it's West End neighbours.