The Leadenhall Building
British Land
The Leadenhall Building is arguably the most important new office building to grace the City of London this decade. Our brand strategy reflected this, with a confident understated and stylish approach.
Moreover we wanted to create a seamless transition from the marketing story into the building itself, reflecting the unique architecture of the structure. With such a distinctive shape the common approach would have been to develop an icon to represent the building as had been done for The Shard, 20 Fenchurch Street and The Pinnacle. Bucking this trend we deliberately avoided this option, instead creating a confident marque that echoed the heritage of the location on Leadenhall Street.
Learn More
We found the cornerstones for the brand in the architectural approach. The Rogers philosophy of 'nothing superfluous' in the design of the building informed the brand language, producing a seamless narrative between the brand and the building itself: clean, elegant and sophisticated.
The brand has an understated confidence, clearly differentiating it in a market where the competition is shouting ever louder. This confidence is conveyed through a straight, authorative tone within the copy, set in Futura because of its purity of form. An additional extra light version of the font was also drawn to create a greater sense of refinement within the brand language. The colour palette was derived from the materials used in the building, and importantly, how these reflected light when in situ.

Key to the story of The Leadenhall Building is the distinctive slope to its exterior, leaning in reverence away from the iconic St Pauls and preserving the viewing corridor to the landmark. This was graphically represented by distinctive type setting and framing of images to add an immediate sense of ownership to the brand.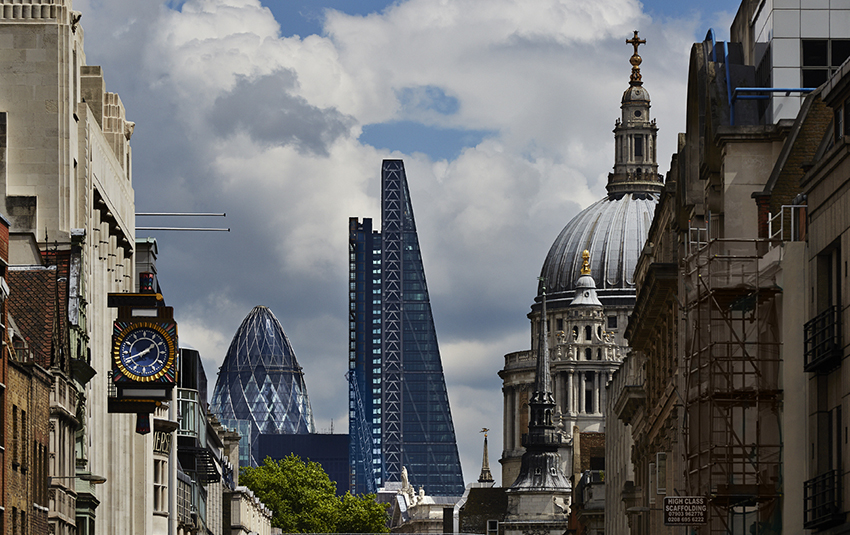 The brand told a consistent story through digital, printed, and experiential media. The measure of the building's market success and the effectiveness of marketing material was the rapid rate at which the building's office floors were let and the value achieved per square foot.
The building was fully let to tenants from a mixture of industries and completed ahead of initial predictions. It currently holds 7 of the top 10 records rents achieved in the City of London per square foot.